This is the Dubtrain Records page for the
Dub Championz Band
history | album | dub album | live tracks
---
Formed in 2002, the Dub Championz began performing
as a freestyle group with dub foundations. Mixed
by Seattle sound superstar OB-ONE and dubbed live
by Pete Dub (Dubtrain Records), the band has rocked
over 200 weekly shows at local venues since 2002.
Visit the band's official myspace page!
---
In 2006 the group recorded their first album, "One".
Available ($10 US) from CDBaby
---
In 2008 the group delivered the multitrack masters
to Pete Dub at Dubtrain Records, and now the
result is the full-length dub remix album, "Dub One".
Available May 2008 from CDBaby or RIGHT HERE!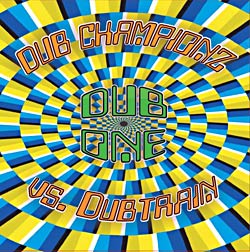 ---
Here are a handful of clips from the band's archive
of over 150 live shows, (128kbps MP3). Enjoy!
| | | |
| --- | --- | --- |
| | 7:47 | This is a live cut from the upcoming album featuring the Champz themselves, with Adrian Xavier on guest vocals, the blessed I Hal on percussion, and world-famous C.D. on treated trumpet. |
| | 1:47 | This is a short sample of the Champs breaking it down in the middle of a set on September 10, 2003. Featuring Mizue on keys, and a rare night with Ronnie Bishop (drums). |
| | 10:54 | This is a live track from a rocking show at the Rainbow, featuring DJ ADX & C.D. Littlefield on trumpet. |
---
© dubtrain records